Reading Time:
6
minutes
Official figures revealed that British consumers spent £810 million pounds in 2014 on one single day, making it the biggest shopping day of the year. That day was Black Friday; a US import that British consumers had barely heard of grew in the space of just 4 years into the biggest phenomenon that retailers experienced in decades.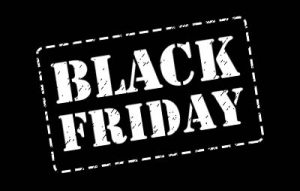 If that statement surprises you, you are not alone because whilst many retailers benefited from the surge in sales, with consumers spending at the rate of £9,375 per second, some retailers did not participate, maybe thinking this was a passing fad.  However, that decision proved costly for the retailers who were left playing catch up for the remainder of the year, missing out on the much needed revenue bump and resulting in an overall weakening in annual sales revenue.
Retail analysts are predicting that Black Friday 2015, and its lesser know cousin Cyber Monday, could see sales figures surpass the £1 billion mark. So far, so great, consumer's benefit from huge discounts on goods and retailers achieve a significant lift in sales and revenue.  However, discounted goods and increased profit margins don't generally go hand in hand. Here are a few pointers for retailers to consider in their plans to achieve the full benefit from Black Friday.
Making a mark
If a retailer is planning on taking part in Black Friday they need to ensure consumers know about it!  This means having a solid marketing strategy for Black Friday that targets existing customers and develops a new potential customer base by promoting your offers well in advance, both in store and online.  Retailers need to think about in store banners highlighting the event, emailing their existing customer base with teaser information and maximising web traffic to their online site through search engine optimisation to drive click through traffic.  However, marketing comes at a cost and retailers need to factor this in their overall strategy when participating in Black Friday.
Sales strategy
Retailers often plan a year in advance their campaign strategy for the important seasonal sales spikes during the calendar year, with Christmas obviously being a key period.  With Black Friday occurring so close to the traditional pre Christmas shopping period, with this year falling on 27th November 2015, there are potential ramifications that need to be carefully thought through.
It is important for retailers to consider where Black Friday fits in their sales and promotional strategy, it is effectively a one day sales event and there is no guarantee that consumer loyalty will be secured and continue throughout December.  Retailers could adopt a strategy of giving promotional vouchers as part of the purchase made on Black Friday giving consumers a % discount on non sale items during December, thereby extending the loyalty period.
Alternatively retailers could go with a loss leader, enticing consumers with a heavily discounted item, in the hope that they continue to spend on non-sale items recouping any lost margin.
Increasing turnover at the expense of profit margin is a difficult equation to balance; retailers need to decide what they want to achieve from Black Friday, how sales and pricing will impact the business and what their strategy will be.
What to sell, when to sell it
Retailers generally purchase goods months in advance to ensure sufficient stock levels during peak sales periods.  Unlike other seasonal peak periods that have a gradual ramp up before hitting a peak, Black Friday is just a day. Retailers need a strategy for effectively a 24 hour period, striking the right balance between the stock they buy for Black Friday and the margins they want to achieve for the day itself and the remainder of the pre Christmas shopping period.
This can leave retailers in a quandary, do they discount a mature product line with the aim of shifting older stock or do they purchase a new product line specifically for Black Friday with the plan of driving footfall towards the non-discounted lines.
Retailers may presume that they must dramatically discount significant lines of stock, however they should consider a more nuanced approach that is focused on limited lines available on Black Friday with targeted reductions.  This ensures retailers can realise the benefits of increased footfall/traffic on Black Friday itself without damaging their margins and negatively impacting their Christmas results.
Boomerang products
Retailers are in the business of selling products; returns are inevitable however a poorly conceived returns policy can negatively impact profit.  Retailers need to consider what their returns policy will be for Black Friday, to ensure any unwanted rather than faulty goods are returned in a timely manner so the item can be re-sold before the boxing day discount period.
Some retailers have previously set a return policy of 2 weeks for unwanted discount purchases made on Black Friday.  Retailers need to decide how they will manage returns and may choose to implement a limited time period for returning goods or only offer in store credit note on unwanted purchasers. This of course would not affect a consumer's statutory rights with regards to faulty goods, as covered under the Sale of Goods Act. 
Delivering a positive online experience
We all love getting a bargain but there is nothing more frustrating than wanting to buy and not being able to.  A common complaint amongst online purchasers is the frustration of a website crashing just at the crucial purchase moment or during the browsing process.
It is vital that retailers ensure they have sufficient resources in place to handle a surge in online orders and transactions by stress testing their e-tail operation.  With Black Friday being a particularly popular event for online retailers there is no shortage of competitors waiting to serve your customer and delivering that positive online service we all want.
When it comes to getting a good bargain loyalty can be fleeting, digitally savvy consumers can swiftly take their business elsewhere with just a few clicks of a mouse button.  Be prepared and it could be your business benefiting from those frustrated clickers! 
I want one of these….now, not in a months time!
For some retailers, Black Friday 2014 delivered a hangover they were not expecting.  These few retailers got it all right at the front end, delivering a master class in marketing their product offerings, selling at the right price and securing many orders.  So far, so good; however the hangover set in at the point of fulfilment as their logistical operation collapsed under the weight of demand.
To avoid the same pitfall retailers must ensure they have a high degree of excellence in the supply chain and stress test it for any weaknesses. Once a customer makes a purchase online they generally want it delivered as soon as possible so retailers need to ensure they have, or can swiftly acquire, sufficient stock to meet demand.  Retailers also need to ensure the goods can be packaged and delivered to the customer in a timely manner. This is where an efficient logistical operation is vital, ensuring sufficient warehouse staffing levels and relationships with nationwide courier service to speedily despatch goods to customers. Also maintaining good communication with the customer during the process to manage expectations.
As some retailers learnt, customers can be very unforgiving when their purchases don't arrive when expected and yet with some prior planning this was a completely avoidable problem.
Know your business
The main point to take away is that planning is key and the route to retail success is to become more data aware.  Decision-making based on hard data rather than guesswork enables retailers to make the smarter decisions towards higher profits, greater customer satisfaction and sustainable growth.
Whilst larger retailers can drive economies of scale and rely on price discounting to deliver sales, smaller retailers unable to compete like for like on price need to be more ingenious.  Through analysing their data, smaller retailers can make smarter decisions based on real-time data on inventory management and pricing strategy, minimising wastage and enabling them to compete without eroding margins.
Having the right tools in place is paramount and by having a fully integrated system, retailers can use the wealth of information at their fingertips to drive real frontline differentiation.  Modern point of sale systems come with reporting features that can deliver insights on important metrics such as live sales, stock levels, analysis on voids and refunds, e-commerce fulfilment, customer history, sales trends and more.
Retailers who want to thrive must incorporate their data into their decision making process, if you don't have a point of sale solution that can give you the intelligence needed, it might be time to find a new technology partner before missing out on the next biggest shopping day of the year.